Guitarist and composer Bill Frisell has been making music for forty-plus years. He's collaborated with artists like Elvis Costello, David Sanborn, film director Gus Van Sant and Bono (on the soundtrack for the film Million Dollar Hotel). Bill's been called "the most brilliant and unique voice to come along in jazz guitar since Wes Montgomery" by Stereophile. (You can read more about Bill's musical career and all of his awards and accolades on his website HERE.) He spoke to us about growing up in Denver, hanging out at the Denver Folklore Center, how his guitar saved him during the pandemic and his latest album Four.
Bill grew up in Denver, Colorado. His musical journey began in fourth grade at Teller Elementary School. The folks at the school's music program would come around and ask if anyone wanted to play an instrument. Bill's father thought the clarinet was a good instrument so he ended up playing it in the school band. He played clarinet all the way through high school and into college. "I took to it and did well. It was serious and I had to practice every day, but my heart was never really in it."
A few years later in the early '60s, Bill's friend got a guitar and he started fiddling around with it and fell in love. Soon after that the Denver Folklore Center opened. "I would take the bus to the store. There was a guitar teacher Bob Marcus, a family friend, and he showed me stuff on the guitar. Later I would just go to the store and hang out. It was amazing - a record store, guitars on the wall. I would hang around and listen to what people were doing. If I thought it was cool I would check it out. I heard my first Frank Zappa record there. I was just a kid, so I wasn't really in on everything, but I soaked it up."
A few years later Bill studied with jazz guitarist and educator, Dale Bruning. "He would do gigs at the Denver Folklore Center and he'd invite me and I got to play there. It was awesome - they had a concert hall, record store, guitar shop all together. I just played a gig with him in Boulder and he still blows my mind. He does things I didn't think was possible on the guitar."
Bill's latest project Four is a new combination of music for him. "It's been floating around in my imagination. And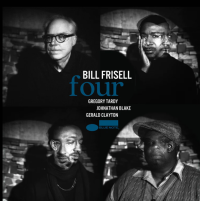 then during the pandemic I was writing all this music and it sort of came together and I put together this band. Johnathan Blake (drums), Gerald Clayton (piano) & Greg Tardy (clarinet and saxophone). It's been a little more than a year ago since we recorded it and it just came out recently. When we play in Denver it might be our second gig. It's the beginning of playing live together."
It was also during the pandemic that Bill reconnected with his guitar. "I had all this blank space, and my guitar and the music is what saved me. There were no deadlines - I can't remember the last time I wasn't rushing from one thing to another. I didn't have any real project in mind or anything. It was amazing to reconnect with my instrument that way, just play for no reason other than playing. I never doubted that I loved playing but it was in a sort of extreme different circumstance. I could just go in whatever direction I wanted to go and just follow it."
You can see Bill Frisell (and the players on Four) on March 21st at Ophelia's Electric Soapbox in Denver, CO. Get tickets HERE.