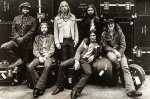 The Allman Brothers Band was an influential musical group that recorded their first album in 1969. Through several iterations and personnel changes over the years, the band created many albums and toured on and off until 2014. The importance of their legacy was undeniable as a genre-smashing group of musicians. They combined influences ranging from folk, rock, country, blues, soul and jazz. They also employed some nonconventional instrumentation, such as using two lead guitarists and two drummers. It would be difficult to measure the lasting effect they had on musical styles and the artists who would follow.
Over the years the band was subject to trials and tribulations, both internal and external. They gained and lost members and separated only to be reinvented and reunited. They had commercial successes and failures. They suffered from infighting and the inevitable drama of a group of individuals stuck together for years at a time. Addiction, egos, tragedy and ultimately evolution can all be used to describe the Allman Brothers Band.
The Early Years
The band was formed in 1969 by Duane Allman, leader and lead guitarist. He was seeking more freedom to set up a band in a way that he preferred. The band also utilized elements of country music, jazz and the blues in their rock and roll style. From the beginning, The Allman Brothers made use of improvisation and it became one of their defining traits. Band guitarist, Warren Haynes is quoted as saying, "We sure didn't set out to be a jam band, but those long jams just emanated from within the band, because we didn't want to just play three minutes and be over."
Despite being a 1970's rock band from Macon, Georgia, the Allmans rejected the southern rock moniker, seeking a legacy that went beyond characterization. The band despised the racism and stereotypes that defined many southern rock acts of the time. They chose to be an integrated group in a time and place that was barely past segregation in the minds of its citizens.
Southern Innovators
One of the unique aspects of the band was the use of two lead guitarists. This allowed for more depth of melody and a fullness of sound, a vision that Duane Allman carried into the band. Dickey Betts filled the role of second lead guitarist and came to the band with some slightly different musical influences, such as bluegrass and country - "I played mandolin, ukulele and fiddle before I ever touched a guitar". This background shows heavily in their music on songs like Ramblin' Man and Blue Sky, both of which were written and sung by Betts.
The Allmans used a wide variety of instruments over the years to achieve their unique sound and style. Besides traditional rock and roll instrumentation, they made use of the slide guitar, piano, tympani, synthesizer, organ and harmonica.
Finding Their Niche
Their first album (The Allman Brothers Band recorded in November 1969, which included the song Whipping Post) was initially a commercial failure. It sold less than 35,000 copies at first release. However, they played 300 live shows the following year and began to gain some popularity from this tour. Their second album (Idlewild South recorded in September 1970, which included the single Midnight Rider) didn't sell much more than the first. This led to the decision to embrace the magic that occurred between the band and their fans during their live performances. Their third album At Fillmore East was a live recording released in July 1971 and was their first commercially successful album. It reached #13 on the Billboard charts and achieved Gold Record status by the Recording Industry Association of America. In the following years they released several more live albums to supplement their studio recordings.
Give a listen to some of the band's songs. Ramblin' Man was recorded in 1973 and appeared on Brothers and Sisters, the Allman's fourth album. Written and sung by Dickey Betts, this song was significant because it was somewhat of a departure from the band's original style. The band members were reluctant to record it because they felt it had too much of a country vibe, but the song went on to become one of their most iconic songs.
Blue Sky, from the album Eat A Peach released in February 1972, was again written and sung by Dickey Betts. Sadly, this song is one of Duane Allman's last guitar recordings before his tragic death in a motorcycle accident in October 1971. Duane and Dickey took turns playing the lead melody on the song.